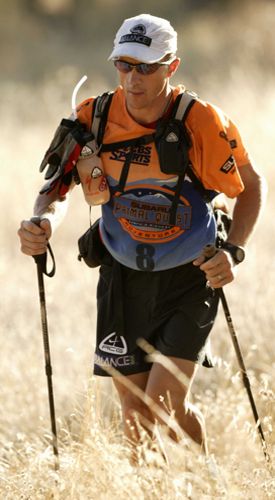 Latest News
Primal Quest Champion Mike Kloser to Compete in 2018 Primal Quest
Monday 20th August 2018
News Categories
Primal Quest Champion Mike Kloser to Compete in 2018 Primal Quest
Five time Primal Quest champion Mike Kloser will lead a team of four in the first official Expedition World OCR Championship
SQUAMISH, British Columbia – (August 20, 2018) – Mike Kloser, internationally renowned adventure racer and a pioneer in the world of endurance sports, will compete in the 8th edition of the Primal Quest. His team "Get Out There/10 Million Metres" will compete in PQ, the first official Expedition World OCR (Obstacle Course Racing) Championship, sanctioned by the World OCR.
Among Mike's many achievements are four Adventure Racing World Championships, three Eco-Challenge titles, and five Primal Quest Championships. He is a World Mountain Bike Champion, World Long Distance Orienteering Champion, two-time Winter Triathlon National Champion, and the list goes on.
"Mike Kloser is a genuine leader that beholds the best interests of the sport and his teammates at heart. His mentorship, the giving of his energy, time and knowledge to this team to help them succeed, is really significant. This team is creating access and a crossover link from OCR and endurance sports into Adventure Racing and Primal Quest and we are really fortunate to have Mike and this entire team in British Columbia," said Maria Burton, Primal Quest Race Director and CEO.

Primal Quest's partnership with the World OCR FISO, as well as the news of Mark Burnett bringing the Eco-Challenge back, played a role in Mike's decision to jump on board and come back to where his roots were in adventure racing. Mike will be sharing his wealth of experience and knowledge with three racers with varied backgrounds – Alex Flynn, Anna Jones and Chris Paisley.
Alex Flynn is a British adventurer, writer and speaker who was diagnosed with Parkinson's disease ten years ago, at the age of 36. Alex's diagnosis became the catalyst in his life for showing people the possibility of creating positive change in the face of adversity. Under the banner of a challenge entitled "10 Million Metres" (6,214 miles), he has completed many marathons, ultra endurance races and triathlons, while raising awareness and funds for Parkinson's research. He completed the grueling Marathon des Sables (250 km race across the Sahara Desert); became the first person to traverse the 3,256 miles from Santa Monica to New York in 35 days, using four distinct disciplines; climbed and ran 90 km of the Dolomites and 236 km across the Colorado Rockies, achieving all three within an 8-week period, among other achievements. So far in 2018, he has undertaken the brutal and extremely challenging Lost Islands Ultra in Fiji and two weeks later completed the Virgin Money London Marathon.
"I've done ultramarathons, crossed the Amazon jungle, but it's going to be a new experience for me," said Mr. Flynn. "But I'm into new experiences and challenges and although I have Parkinson's disease, I rise to every challenge. I'm going to keep going as long as I can keep going."
In Primal Quest, Alex will be racing to raise awareness of and funds for Parkinson's research in conjunction with Parkinson's UK, the second-biggest Parkinson's charity in the world. The cause is close to Mike Kloser's heart, as two of his brothers suffer from Parkinson's. Those who would like to support the efforts to find a cure can donate at Alex Flynn's fundraising page.
Anna Jones moved to Canada from UK in 2016. She most recently competed at Wilderness Traverse 24h in Ontario, ARWS Maya Mountain Adventure challenge in Belize, Shenandoah Epic 24h in Virginia and Rockstar 8h adventure race and enjoyed some of the more arduous aspects of the sport.
"When Maria Burton put me in touch with Mike Kloser, I wasn't about to turn down the opportunity to race with the 4-time World Champion. I'm super excited about the race and I'm hoping to learn a lot in the varied disciplines and terrain," said Ms. Jones.
Chris Paisley, the fourth team member, lives in Ohio and owns a concrete floor polishing company. He completed Spartan Ultra 24hr event in Iceland last December and Spartan Winter Agoge in Vermont this February. Chris has been a volunteer Reserve Deputy Sheriff for 17 years. He is a team leader of the tactical response team, defensive/subject control instructor, and a bagpiper with Sheriff's Office Pipes and Drums band.

About Primal Quest
Primal Quest is the world's Premier OCR Expedition Race. The 8th edition will take place in Canada for the first time. Scheduled for September 6-15, 2018, teams of 2 to 4 will navigate the coastal mountain range of British Columbia, running, biking, rappelling, paddling and climbing together over 300-500 km. For more information and to register, visit https://primalquest.org.