8th Edition
About Primal Quest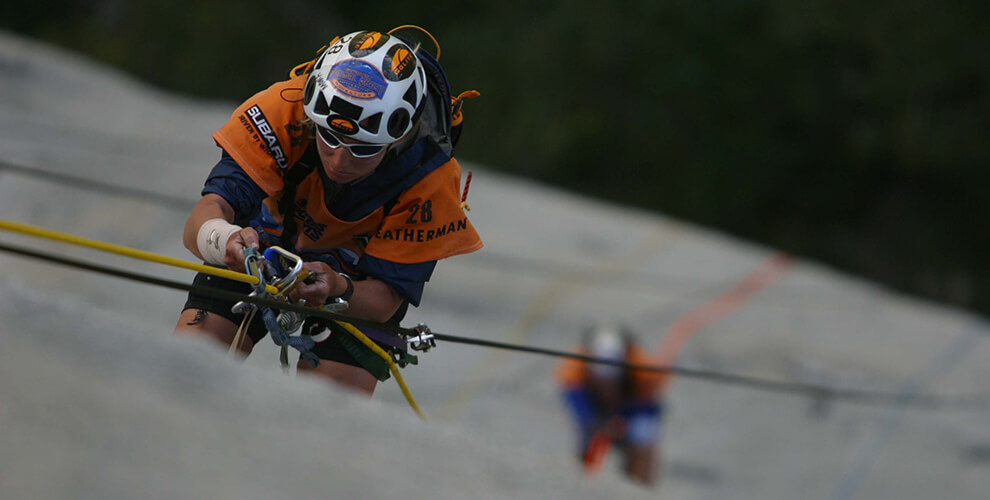 We saw it as the ultimate team challenge. It's an amazing event and an incredible experience.
Primal Quest is a multi-day, non-stop, expedition-style adventure race held in North America. The first edition was held back in 2002, with the event travelling to various host locations over the past 15 years – Telluride, Lake Tahoe, Moab Utah, Montana, Badlands South Dakota and Lake Tahoe once again.
Primal Quest is North America's Premier Expedition adventure race, that has been called one of the most difficult athletic events in the world and was cited as the most prestigious expedition event in North America. Registration for the 2018 event opens to teams of four on the 30th of November 2017 with entry secured by submitting the online entry form located on the Enter Now page. Entries to Primal Quest are limited and a team entry can't be guaranteed.
The next edition of Primal Quest will be known as Edition 8 – British Columbia. The event will be hosted by Squamish and the wider Pacific Coast Ranges, a series of mountain ranges that stretch along the West Coast of North America from Alaska south to Northern and Central Mexico. The host venue will be the stunning lakeside town of Squamish, home of the world's most epic outdoor adventures – from sea to sky – all within 10 minutes of one another.
Edition 8 – British Columbia, will be made up of two separate events running under the one Primal Quest umbrella – PQ Pure and PQ Pursuit. The PQ Pure event is designed to have winning teams in 5-6 days and is open for 10 days with teams 'unsupported'. This means PQ Pure teams do not require a support crew with organizers moving all equipment and gear boxes around the course as necessary. The PQ Pursuit event is designed to be shorter with 4-5 days winning time and teams will be 'supported'. This means that PQ Pursuit teams need to provide a support crew. Details about support crew requirements will be released in the Newsletters. In both events all kayaks, rafts and certain other key items of equipment will be provided by the organizers.
What's Involved?
Teams will navigate, trek, mountain bike, kayak, raft, mountaineer and use fixed ropes over a vast array of different landscapes. Other disciplines may be included at the discretion of the organizers – teams may or may not be notified of these disciplines before the event starts. Primal Quest will test the mental and physical skills of participants as well as other factors such as team work and emotional stress. The route will be highly demanding both technically and physically, testing teams in many different ways.  Those taking part in the event should not underestimate the importance of being well prepared for travel in very remote locations and a high degree of outdoor competency is a pre-requisite of entry.
Teams receive a logistics planner approximately 1 week before the race starts
The planner gives teams the opportunity to pack their boxes with food and supplies whilst keeping the actual course secret
Teams are provided with some/not all marked maps and a team handbook approximately 6-12hrs before the race starts
Once the race starts, teams must pass through a series of mandatory checkpoints along the course
To finish ranked, teams must visit all mandatory checkpoints on the course
In most instances the route between mandatory checkpoints is optional which allows for significant navigational challenges
The entire course is generally broken up into 6-8 lengthy stages depending on host location and terrain
Stages may contain more than one discipline – e.g., trekking and fixed ropes
Competitors change stages, from one mode of transportation to another, at designated transition areas (known in adventure racing as a "TA")
TA's and some checkpoints are staffed with race officials and medical personnel, as well as volunteers from around the world
One of the unique aspects of Primal Quest and expedition-length adventure races is that the maps and course remain secret to all teams until just before the start
Teams taking on Primal Quest are expected to travel day and night. Decisions to rest and sleep are left solely to the discretion of the teams themselves. It is anticipated that the winning teams for the PQ Pure and PQ Pursuit events at Edition 8 – British Columbia will take approximately 4-6 days to finish. Teams may be allowed to take as many as 10 days to complete the PQ Pure and PQ Pursuit events. Both the PQ Pure and PQ Pursuit events will have at least one mid-race cut off which will shorten the route to ensure that all teams reach the finish line in the time allowed.