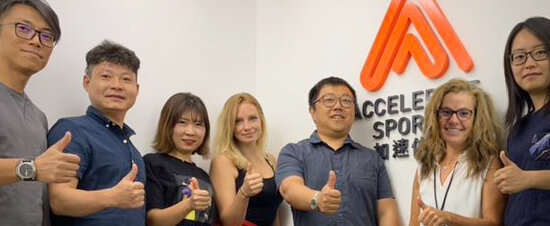 Latest News
Partnership designed to reach new asian adventure markets
Tuesday 1st October 2019
News Categories
Media Release
California, USA | Beijing, CHINA
Tues Oct 1, 2019
For immediate release
Today, two global sport organizations announced a partnership to further establish the development of adventure sports into new global markets.
World renown adventure-racing leader Primal Quest, North America's premiere event developer and AXC Accelerate Sports Culture, Beijing China have combined strengths to expand awareness, interest and participation in adventure sport.
"We are very excited to collaborate with AXC Sports and advance adventure racing in the Asian market and abroad, we believe that a new market and a new next generation of adventurers will be inspired to race. To work together, invite adventurers to embark on a series of races that build in length and complexity over time. To usher new adventurers, with new media and sponsors, into the future of adventure racing and partaking in more and ultimately an expedition adventure race, is the goal." says Primal Quest CEO Maria Burton
AXC Sports is Chinas' leading sports development company. "We have worked with large conglomerates in the past such as BMW and with a vision shift towards human powered sports, we want to combine and leverage our network to inspire adventurers to take on new challenges." states Gao Lu, AXC Partner.
The partners will kick off this collaboration with a demonstration invitational short-length adventure race set for October 26th 2019 in Tianjin, Jizhou China. Combining the best of adventure with Trekking and Biking on the Great Wall, plus lake kayaking and an exciting rappel section its sure to be fun and thrilling.
"What a tremendous opportunity to demonstrate, spread and encourage the benefits of adventure racing." says Burton. "Primal Quest has been adventure-racing in North America since the early 2000's and we are excited to extend our legacy over to the other side of the world and together with AXC Sports establish formative events that work to build strength and unity for adventure racing."
Combining Primal Quests reputation and history in North America with AXC Sports enthusiasm and innovative approach to modernize adventure racing in its home market in Asia will accelerate significant benefits to the sport.
Gao Lu, extends an invitation to all to Tianjin China to watch, participate and/or share.
For more information on Primal Quest and AXC Sports –
Primal Quest Inc
Insta @primalquest
AXC Sports – Accelerate Sports Culture
WeChat: AXCSports
Weibo:http://weibo.cn/primalquestCN
Douyin:PrimalQuestCN