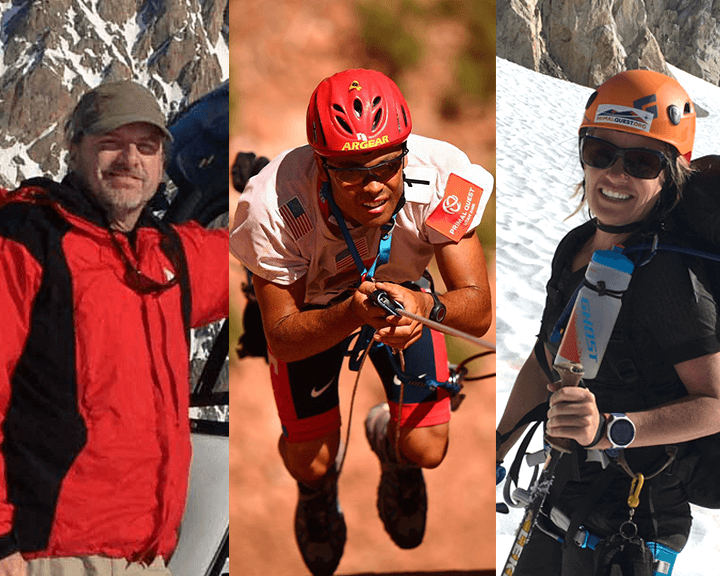 Latest News
EMMY-WINNING FILMMAKER TO CO-PRODUCE PRIMAL QUEST FEATURE FILM
Thursday 21st June 2018
News Categories
SQUAMISH, British Columbia – (June 21, 2018) – Four-time Emmy award-winning filmmaker Tim Powell, World OCR President Ian Adamson and Primal Quest CEO Maria Burton have teamed to produce a feature film showcasing the 8th edition of the Primal Quest, North America's greatest expedition adventure race where teams of experienced backcountry adventure athletes journey across expansive terrain, running, biking, rappelling, paddling and climbing together over 300-450 km. The race is scheduled for September 6 through September 15, 2018, in British Columbia, Canada.
"We are thrilled to showcase the authentic experience of the 10-day expedition adventure race journey, especially in the light of Mark Burnett's and Bear Grylls' announcement of the Eco-Challenge revival to television. It signifies the resurgence and new interest in the sport of expedition adventure racing and gives our production team an opportunity to capture the essence of the sport and the spirit of this epic adventure, and to share it with a wide audience," said Maria Burton.
Tim Powell, who will be a Supervising Producer of the Primal Quest feature film, is an internationally recognized, four-time Emmy award-winning filmmaker. In addition to working on over 350 episodes of network television for ABC, NBC, CBS, and FOX, Tim worked as a producer and/or director for 13 series for the Discovery Channel and Discovery Networks. He also spent five years producing and directing for the documentary series, National Geographic "Explorer." He has a long history with Walt Disney Productions and Disney Entertainment, including live shows and network television specials. He has traveled all over the world, filming documentaries and events in 28 countries. Tim has been a Supervising Producer/Director on five Eco-Challenge events, two Raid Gauloises adventure races, the Primal Quest Montana adventure race, and the Marathon des Sables in Morocco. He brings a passion for capturing the authentic epic experience of expedition adventure racing.
"This is a truly exciting time to be part of this rebirth of one of the most epic, exciting and grueling athletic competitions on earth. Ian Adamson and Maria Burton are not just reviving a world-class sport, they are tapping into the explosion of extreme obstacle course racing and re-inventing expedition racing," said Tim Powell. "I am proud to be working with them to tell compelling stories about ordinary people doing extraordinary things, as we deep-dive into the authentic human drama of extreme athletic competition."
Ian Adamson, Executive Producer of the film, spent the past 25 years directing, producing and competing in events and television competition shows in 40 countries around the world. He is currently leading the sport of Obstacle Course Racing to meet the requirements as specified by the International Olympic Committee for recognition as an Olympic Sport. As a world-renowned athlete and sports professional, Ian has applied his athletic, engineering, medical expertise and organizational skills to achieve ten world championship wins (in three sports), three world records and Gold, Silver and Bronze medals at the ESPN X-Games.
"We are thrilled to collaborate with Primal Quest on the first Expedition OCR World Championships and provide an opportunity for OCR athletes who want to take competition to the next level." said Ian Adamson. "Expedition OCRWC is a logical progression from World's Toughest Mudder and Spartan Ultra World Championships."
Maria Burton, Primal Quest CEO and Race Director, adds 20 years of experience in film and television to the production team, and will be Executive Producer on the project. In addition to eight years of experience with animation and special effects for Sony Pictures Imageworks, Pixar, Disney and ILM movies, Maria has worked as executive producer for four Primal Quest productions that aired on CBS, ABC, ESPN, OLN, SkyTV and OutsideTV. Primal Quest has historically produced high-quality and Emmy-nominated feature media presentations. A trailer from a previous season of Primal Quest at Lake Tahoe can be viewed here.
About Primal Quest
Primal Quest is the world's Premier OCR Expedition Race. The 8th edition will take place in Canada for the first time. Scheduled for September 6-15, 2018, teams of 2 to 4 will navigate the coastal mountain range of British Columbia, running, biking, rappelling, paddling and climbing together over 300-450 km. For more information and to register, visit https://primalquest.org.